If you need to improve the curb appeal of your home in a short amount of time, there are several small fixes you can complete in a weekend or less. Here are some fast ways to change the appearance of the exterior of a home or your property's landscaping as fast as possible.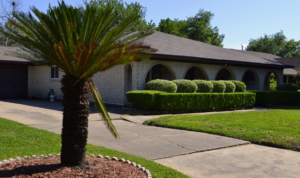 Remove the Trash
Walk around your property to pick up the trash, including soft drink cans, old newspapers, last year's leaves, and other debris. In addition, you should collect the dead tree branches, rotting plant foliage, and decaying leaves to improve the appearance of the landscaping. If you have old gardening supplies or children's toys on your property, then throw away these items.
Wash Exterior Windows
Grab an extension ladder, bucket, cleanser, and a windowpane-cleaning tool so you can clean your home's window glass. As you are cleaning, you might be surprised at how grimy the glass is with dirt, cobwebs, and insect splatters.
Hire a Lawn Care Service
Potential homebuyers are attracted to beautiful lawns and landscaping. If you hire a lawn care service, then a landscaper can create a unique plan for your property to improve the way that the grass, shrubs, and trees look. A good technician can shape the trees on your property along with trimming the shrubs to help make your home look better. The landscapers can also plant an assortment of flowers so that your home becomes the showcase in your neighborhood. According to a Lawn Care service in Utah, most landscapers will offer a regular maintenance plan. This way you won't have to worry once you have a landscape in effect.
Replace the Mailbox and House Numbers
Make sure you replace your home's house numbers and mailbox with items that are easy to see from the street. Choose large house numbers in an attractive font and color to attach to the front of your home and the mailbox. Select a larger mailbox that will hold big boxes so potential thieves won't see things that are delivered to a home and left out on the porch.
Have a Painting Party
You probably think you can't paint an entire home in one weekend, but if you have a painting party, then it is possible. Invite your friends and relatives to your home for a weekend painting party. Have the supplies ready for painting the exterior of your home and its trim. Make the party fun by having an assortment of foods and beverages available for your helpers. If you don't want to try more detailed jobs like the window trim, have a professional come in to help.
If you only have a weekend to update the exterior and landscaping of your home, then you must have a detailed time line to complete the tasks. Make multiple copies of your timeline to give to anyone who is helping you with your home improvements.