Exterior Painters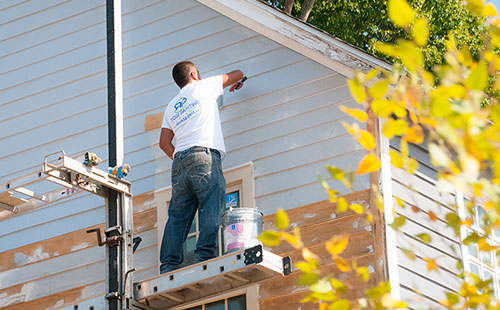 Most people know that a high-quality exterior paint job lasts for many years and instantly boosts the value and curb appeal of a property. However, did you know that exterior painting is also one of the best ways to protect your home against the elements? Outdoor siding must be able to withstand extreme weather, UV light rays, and the build-up of pollutants and contaminants. The layer of paint, barely thicker than a sheet of paper, acts as a protective coating for that surface.
At Ridge Painting Company, we understand that maintaining your home is important to you. That's why we do careful preparation work, use high-quality materials, and always apply two topcoats. This produces a stronger seal and ensures that your exterior paint job is beautiful, long-lasting, and resilient.
Just like all other commercial paintings, exterior painting has a multi-step process that is important to follow. The phrase "it's all in the prep" is an accurate one, the level of preparation will determine the quality of the finished product. Every exterior job starts with a thorough powerwash to clean the surface of all dirt/mold. Next, the preparation starts. All flaking or peeling paint on the siding and trim is scraped and the areas are sanded smooth. Once sanded, we caulk all the trim and open seams. After the bare wood areas will be spot primed using an oil primer, if the amount of bare wood is excessive the entire house will be oil primed. Upon completion of priming, the siding and trim both get two full coats of quality exterior paint. After the final coats of paint have been applied, we clean the area surrounding the property of any debris left over. Below is a step-by-step timeline, take a look and give us a call if you are looking for the best exterior painters nj has to offer.
Engage.
Step 1

Exterior powerwashing

Step 2

Exterior scrape / sand

Step 3

Exterior patch

Step 4

Exterior caulk

Step 5

Exterior sanding

Step 6

Exterior priming

Step 7

Exterior final coat
Enjoy.