If you want to put a new spin on your place but have never done any renovations, the challenge can be intimidating. A great rule of thumb is to start small. You can go bigger as you gain confidence and build up a budget for larger-scale renovations. Taking on small and inexpensive tasks can help you build your confidence as you develop your know-how. Taking on smaller jobs can also mean smaller mistakes to clean up. Here are some renovation ideas for the newbie.
Clean, Organize and Rearrange
It may not sound terribly interesting, but the first thing you should do is give the place a thorough deep cleaning. You might be surprised at what you will find beneath the grime. In that same vein, consider downsizing your goods and getting organized. Sometimes just organizing and rearranging the furniture can improve the flow of a room and make it feel like a whole new space.
A Fresh Coat of Paint
One of the least expensive renovating projects you can take on that will produce the biggest results is giving your place a fresh coat of paint. The part of this project that you should spend the most time on is choosing the right paint. Get paint chips of the colors you like and hang them on the wall. When you have narrowed it down, get samples of the colors you like the best and paint a small swath in several places. Light is likely to hit different parts of the room in different ways. When you are sure about your color choices, go ahead and get your paint.
Refinish Cabinets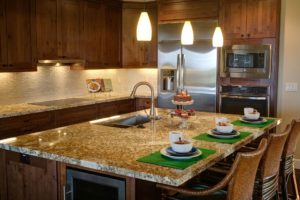 As long as we are discussing paint, if you aren't enthusiastic about your current cabinets, try giving them a fresh coat of paint. Replacing cabinets can be costly and complicated. If you repaint your cabinets, you will probably also want to replace the knobs. You could also replace the cabinet doors or remove them entirely to create open shelving. Whatever you decide, the results will be dramatic.
Swap Out Fixtures
Another small project that can change the feel of your space is changing out fixtures including faucets, shower heads, lighting fixtures and even door knobs. You could replace that cheap builder's grade faucet with a more elegant brushed nickel or add some visual interest with a burnt copper finish. Rule of Renovation recommends that you replace the simple glass globe around your light with pendant lighting or track lighting. Consider the look you are going for before you start purchasing fixtures and then make sure that the fixtures you choose all work together.
Flooring
Flooring is a project that is not always as difficult as it looks. One of the easier and least expensive options is laminate flooring. It has the look of wood but is less expensive and relatively easy to install. You should be able to figure out how to lay it by watching a few videos. The simplest option, however, is to just get an area rug. The right area rug can be attractive, inexpensive and can hide a multitude of sins.
When you want to give your home an overhaul, but don't know much about renovation, start small. It is a great way to get your feet wet without doing too much damage. Also, you might be surprised how dramatic the results can be with a few simple changes.